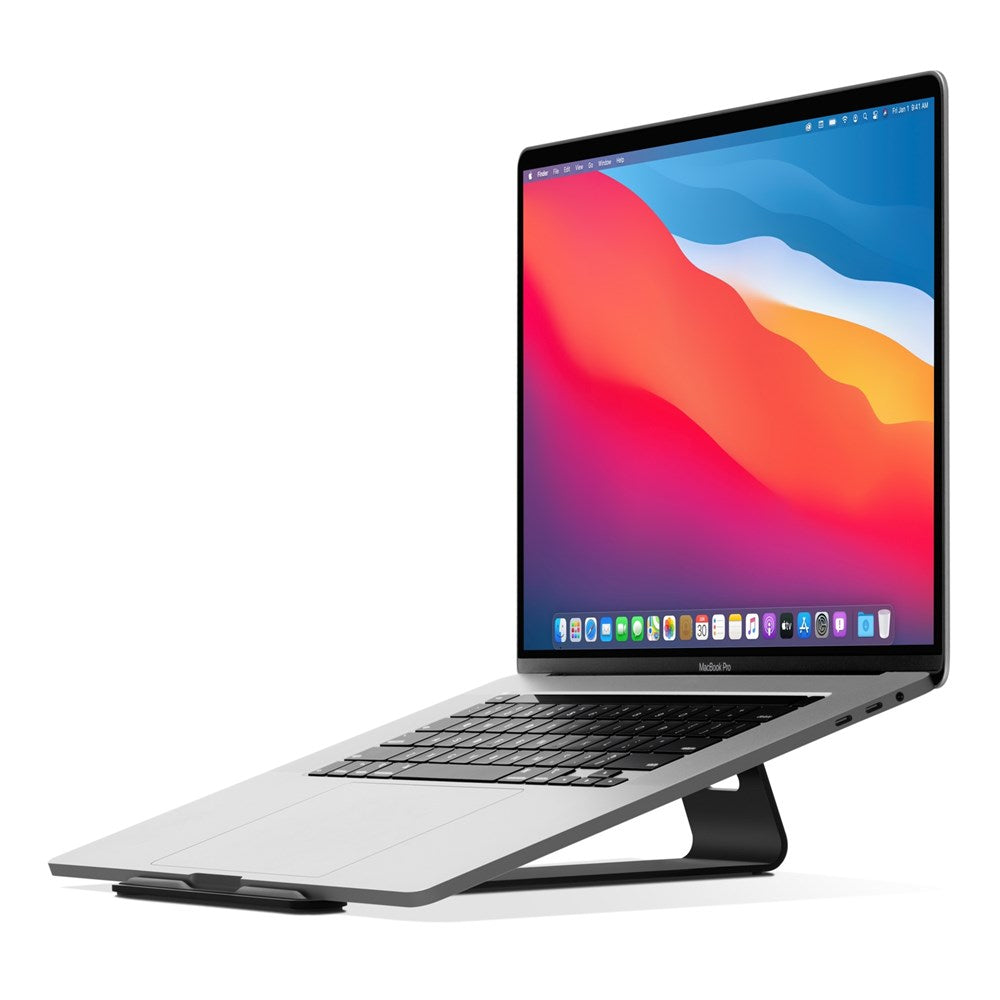 ParcSlope for MacBook and iPad
Save

Liquid error (snippets/product-badge line 36): Computation results in '-Infinity'

%
Little details make this hybrid stand a big deal.
ParcSlope is a dual purpose stand that elevates MacBook screens and angles iPads for more comfort and productivity. With ParcSlope, MacBook users enjoy better ergonomics and increased airflow for a cooler, quieter MacBook. iPad users will love the feel of the 18-degree sketching/typing angle ParcSlope creates. Precision curves, special ridges and built-in cable management make this sleek metal stand a must-have for MacBook and iPad users.    
Elevates your MacBook experience.
ParcSlope is a one-piece metal stand that elevates your MacBook screen for more comfortable viewing while keeping your keyboard angled and low to your desk for comfortable typing. It's the best of both worlds. Use ParcSlope and your notebook alongside a full-size keyboard, mouse and external display for a cozy desktop setup that keeps your MacBook Pro Touch Bar within easy reach. With so many options, ParcSlope makes it easy to personalize your workstation for maximum comfort.
A desktop easel for your best creative work on iPad
ParcSlope angles your iPad to a wrist-friendly 18-degree angle for sketching, creative work or note taking. Once you get a taste of working with your iPad supported at a natural angle, you'll wonder how you lived without ParcSlope. The matte black easel stand is sturdy, stable and holds every iPad in landscape or portrait mode (mini in Portrait only). ParcSlope even lets you turn your iPad into a mini desktop by pairing it with a wireless keyboard. It's simply a smarter way to work on iPad.

Keep your keyboard (and Touch Bar) within easy reach.

Along with elevating your MacBook screen, ParcSlope also positions your keyboard to an 18-degree typing angle. Your wrists, neck and shoulders will be thanking you. Tackle long documents, knock out emails and get more done with this little desktop stand. If you have a MacBook Pro, you'll be happy to know the Touch Bar will be conveniently close to your fingertips.

A design straight out of a minimalist's dream.

Look closely at ParcSlope and you'll see little ridges along the racetrack shaped top. Those ridges are just tall enough to allow the MacBook screen to freely swing open. You'll notice the front lip of the stand is notched so you can open your MacBook with one hand and tall enough to let gravity hold your notebook in place. An oval cutout in the stand's back holds your cables in place when you take your MacBook or iPad someplace else. Treat yourself to a made-for-Apple stand today.
Features
- Raises MacBook screen to a more comfortable viewing height
- Angles iPad for desktop sketching and creative work
- Increases airflow and cooling around MacBooks
- Built-in cable management for grab-n-go use